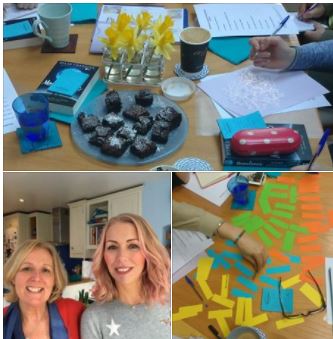 Prize-winning novelist Diane Chandler and Blackbird are running a series of kitchen-table workshops for beginners at Diane's home in Chiswick. Informal and fun, the three-hour, one-off sessions, An Introduction to Creative Writing, share insights on tackling eg. plot, character, dialogue, using your senses to bring writing to life - and also tips on how you might publish your work.
Simple, fun exercises - join in or just listen
Each workshop is limited to eight participants and will run from 9.45am until 1pm. 
Cost £40 to include a copy of Diane's latest novel, Moondance, coffee and brownies!
Feedback thus far -
"Thank you for a fantastic and comprehensive beginners' course on creative writing. It was wonderful."
"Such a fab workshop, so much fun! Look forward to the follow-up."
"I became aware that I have more imagination than I thought, an extraordinary discovery. Felt safe to share."
"I'm going straight to the coffee shop to start writing!"
"Great way to get those creative juices flowing."
"Inspired me to write again."
"Eye-opening and inspirational morning... worth every moment."
09.45 - 1pm CHISWICK, WEST LONDON [Stamford Brook Tube, meter parking]
BOOK HERE:
THURSDAY 24th MAY. Morning
WEDNESDAY 20th JUNE Evening