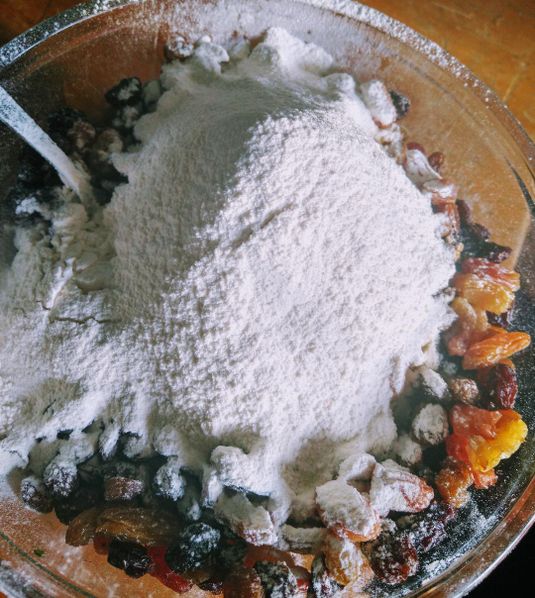 I've never made any secret of the fact that I'm lazy, and my laziness extends to Christmas cooking and all the trimmings that go with it. The days of cutting crosses in the bottoms of Brussels sprouts are long behind me. No more do I peel potatoes, carrots and parsnips, shell peas, string beans, chop cabbage and make bread sauce, cranberry sauce, gravy and two kinds of stuffing.  
No more do I stand in a steamy kitchen while the pudding simmers and my face turns from pink to purple. Those days are gone.
By Christmas day we will almost certainly have already eaten several mince pies and at least one early celebratory meal with friends or colleagues, and that is quite enough for one year, thank you very much. 
Now we either go out to a Chinese buffet, or buy in some ready-made meals, and eat them on our laps while watching tv.
If I'm feeling particularly festive I'll make a last minute Christmas pudding, which takes 15 minutes to prepare, 2 hours to cook, requires no maturing time and is a lighter alternative to the traditional pudding but equally flavoursome. 
The only tribute I pay to Christmas is a home made cake. Here again, being supremely lazy, I fall back on the brilliant "Three Ingredient Fruitcake" recipe I discovered on the Internet. It's so easy it ought not to be allowed and it doesn't need months to mature. As it contains no animal products, it's vegan, too. It's ready to eat as soon as it has come out of the oven and cooled down. 
It makes a 23 cm (9") round cake, or a 20 cm (8") square cake. 
Line the tin with greaseproof paper. 
Put 1 kilo of mixed dried fruit into a large bowl.
Cover with 2.5 cups of black tea or fruit juice.
Leave overnight.
Next day stir in 2 cups of self-raising flour. (You can use gluten-free but I found it makes the texture slightly gritty with an undertaste, so I wouldn't do that.)
Turn out the mixture into your lined baking tin and bake in a pre-heated oven at 160 C, 320F, for approximately one hour. It's ready when it feels firm and a skewer comes out clean. 
Options: You can add spices to the flour if you wish, and you can poke holes in the cake and pour in a spirit or liqueur. 
We don't like royal icing, so I cover the cake in bought marzipan and some marzipan decorations, and tie a ribbon around it. 
That's all there is to it. 
Happy Christmas everybody. 
Susie xx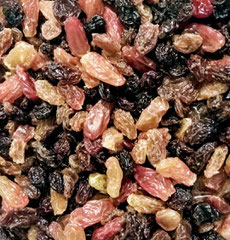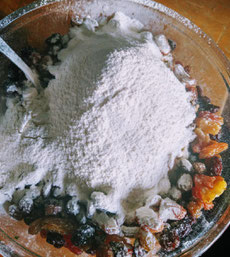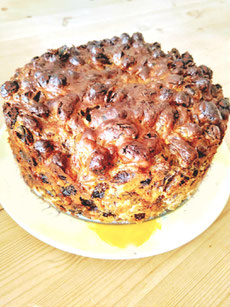 The Lazy Cook 1: Quick & Easy Meatless Meals by Susie Kelly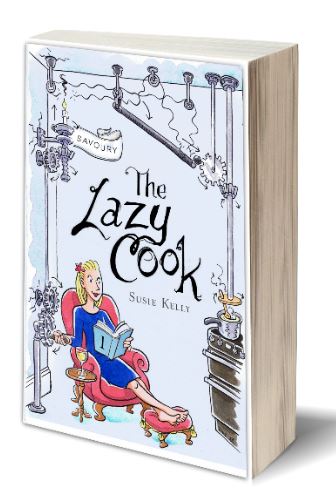 Delicious quick & easy vegetarian (with fish) recipes
One of those rare cookery books that won't be left on the shelf, but will mature with well-thumbed age as its pages become patterned with stains of food, wine, cream, butter and all things delicious

"I have over 100 recipe books and this is in my favourite top 10. I loved this book. Everyday food! Great! I'm off inside to make a fish pie..." US reader

"She enhances the recipes by enclosing them in entertaining stories which make them memorable. This got me thinking that recipes may be closer to favorite poems or stories that one re-tells rather than science experiments." US reader

The popular travel author's delightful round-up of her favourite quick, simple, easy meat-free recipes, sprinkled with anecdote and humour.

Susie makes no claims to being a cooking queen. She admits that over the years she has made every cookery mistake possible, including pouring hot oil back into a plastic bottle and watching the bottle melt and flood most of the kitchen. Then there was the great icing sugar misunderstanding....  but in The Lazy Cook she has put together an irresistible collection of the tasty, comfort-food recipes that are enjoyed by her family and friends, spattered with generous blobs of funny. 
Kindle: £2.41/$2.99/E2.99
Paperback: £7.99/$11.99/E10.60
Link to The Book Depository (with free worldwide postage)
and to order from all good bookshops worldwide
Link to Book 2: The Lazy Cook - Quick and Easy Sweet Treats