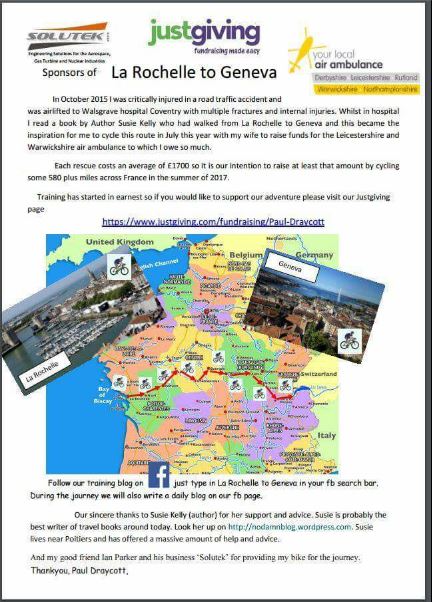 "Susie is probably the best writer of travel books around today." 
Susie's inspirational journey stayed with him and he is now planning to cycle Susie's route this summer, along with his wife, Diana Kirkup, to raise funds for  Leicestershire & Warwickshire air ambulance division. Susie has been helping them plan their route.  
Each rescue costs an average of £1700. More information about Paul and Diana's's journey can be found at at their Just Giving page and on their Facebook page La Rochelle to Geneva.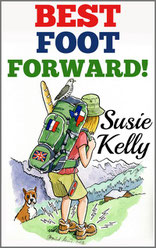 "A book to inspire." Good Housekeeping Magazine
"A tale that takes in 500 miles of rural France and includes, in equal measure, laugh-out-loud tales of personal discomfort, disarmingly frank descriptions of the authors self doubt as to her sanity at taking on such a challenge, and absolutely oodles of insightful descriptions of the places she passes through, together with just the right amount of historical perspective."
"The humour constantly tickles you, and often makes you burst our laughing. This book is a tonic, an escape from materialism, a sojourn into territory, physical and abstract, where most of us, alas, have never ventured. I loved every bit of it, & I'll be reading ALL of Susie Kelly's books!"
"She is an inspiration with all her wonderful adventures and has a wonderful insight into the history of France, and her characterisation of people and events are funny, educational and very entertaining."
"The writer is not a wee timorous lassie; she is a lady with tenacity, courage and oh such a wonderful sense of humour! I find walking the dogs tiring enough but to walk from La Rochelle to Geneva beggars belief!"
Susie Kelly blogs about her life in rural France at No Damn Blog. Her new book, about her recent return to the African settings of her hit memoir I Wish I Could Say I Was Sorry  will be published  this year.