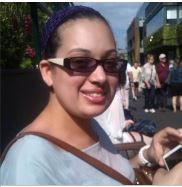 We are delighted to welcome Deanna Houghton as our Summer 2015 publishing intern. Deanna, 20, from North Hertfordshire, is in her second year at the University of Hull, studying for a BA in English Literature.
Deanna loves both contemporary and classical literature. Her favourite genre novels are romance, paranormal/fantasy, adventure and YA. Her favourite classical novel is Jane Eyre.
"I am thoroughly enjoying my course. I can pass backwards and forwards in time, metaphorically at least. I have witnessed the age of knights and their fair maidens, seen the exquisite banquets of King Arthur and his queen. I have struggled through the trenches of World War One, felt the squelch of mud beneath my feet, the drip of sweat upon my brow.  I have experienced the gender inequalities of the 1970s, (and am very aware that many issues are still ongoing). Literature is a vessel of transportation across all sectors of the globe; a telescope which allows one to zoom in on specific moments gone by."
in her spare time, Deanna writes flash fiction. She adores all kinds of animals. She enjoys horse riding, snooker and darts, and loves going to museums, art galleries and the theatre, especially musicals. She has seen Les Miserables and The Lion King multiple times. After graduation Deanna hopes to pass on her love of literature to others, whether this be through working in publishing, teaching or lecturing, or perhaps all three at some point in her life. 
Deanna will be working across several of our recent titles, liaising with the authors to raise the visibility of their books both digitally and in store.