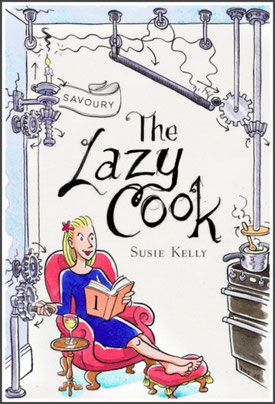 The first of Susie Kelly's two new titles, cookery books full of Susie anecdote and humour, is now available for pre-order online:
The Lazy Cook (Book One): Quick & Easy Meatless Meals by Susie Kelly
This wonderful cover showing Susie at work was drawn by
David Lewis (www.davidlewiscartoons) 
and designed by
Fena Lee 
(https://pheeena.carbonmade.com).
To whet your appetite, here's a short extract from the Pies and Tarts chapter.
Pastry – it's a piece of pie!
There's always been something of a mystique about pastry-making, as if it's beyond the ability of mere mortals, requiring chilled marble work surfaces, iced water, frozen fingers lighter than a fairy's kiss. Well, I have to admit I haven't attempted flaky pastry, or strudel pastry, because as you know, I don't have much 
patience. However, I can produce some pretty decent pie crust and tart bases without even getting it under my fingernails. Do you ever find that when you're hands are covered in dough either the phone rings, or your nose itches? Well, with these pastry recipes, that won't be a problem.
Rich, light shortcrust pastry
This gives a really light shortcrust pastry, and is easy to make if you have a food processor.
1½ cups of soft butter (you can substitute margarine)
4 cups of plain flour
Pinch of salt
3-4 tablespoons cold water
In a food processor cream together the water, butter and 4 tablespoons of the flour. Add the remaining flour a little at a time until you have a dough. Knead very gently into a ball, and chill for 30 minutes before using.
Hot water pastry
Put in a mixing bowl 1½ cups of plain flour, a pinch of salt and a pinch of baking powder. Pour over ½ cup of oil (not olive), and ¼ cup of boiling water. Mix it with a knife or spoon. It's going to look very runny, but don't panic! Keep mixing for a minute or so, when it will come together into a manageable dough as it begins to cool. Wrap it in clingfilm and put in the fridge to chill for an hour before use. Makes one 8" pie. This is quite a sticky pastry, best rolled out between two sheets of greaseproof paper, and used as a tart base. It is very short and crumbly, and according to my husband, the best pastry he's ever tasted. And he's a bit of a pastry fan.
Vegan
Stirred pastry
Crazily easy to make, and lower in fat than the rich light shortcrust.
Put in a mixing bowl 2 scant cups of plain flour, 1 teaspoon of salt, 1 teaspoon of sugar. Pour over ½ cup of oil (not olive) and ¼ cup of milk. Stir until you can't see any flour. Pat into a ball and chill for half an hour. Don't leave it too long before using, as it quickly becomes oily. A good strong pastry for pasties and pies. Makes sufficient for two 10" tarts or one pie.
Use soya milk for vegan version
Extract taken from The Lazy Cook (Book One). c. Susie Kelly. All rights reserved. Out June 22nd 2015.
Read Chapter One here.
Pre-order the kindle ebook here:
The paperback will be available at £7.99/$11.99 from all major online retailers; to order from Waterstones click & collect and from bookshops worldwide, ISBN 9780993092251.
The Lazy Cook (Book Two): Quick & Easy Sweet Treats to follow!