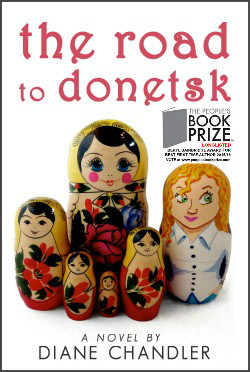 We are thrilled to announce that The Road To Donetsk by Diane Chandler has been longlisted for The People's Book Prize 2015/16.
The winners (for fiction, non-fiction and children's), voted for by the public, will be announced at a Black Tie awards ceremony at Stationers' Hall, London in May 2016, all to be televised live by Sky TV News. Diane's book will also be eligible for the Beryl Bainbridge First Time Author Award. The late, great Beryl Bainbridge is the Founding Patron of the Prize. This is what she said at its launch:
'Something like this, this idea - which is absolutely amazing once it takes off, it will be of enormous importance to writers. I look forward to the time when we mention this particular prize as the greatest - and look back - and remember I was at the meeting at the London Book Fair and think where it has gone! So I wish it tremendous good luck."
The current Patron is Frederick Forsyth. 
This is a terrific opportunity for new author Diane. Past winners have included David Walliams, Dr Michael Mosley and Mimi Spencer. The Road To Donetsk will be showcased in the forthcoming SUMMER  2015/16 collection and can be voted for from 1 June to 31 August 2015.