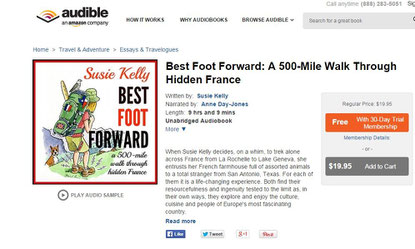 An exciting moment this week as our first ever audiobook, BEST FOOT FORWARD: A 500-MILE WALK THROUGH HIDDEN FRANCE by Susie Kelly  goes on sale. 
It has been a positive experience from beginning to end. The Amazon platform ACX AUDIO, really do hold your hand all the way through and we lucked out with our producer/narrator, the actress Anne Day-Jones. She gets Susie's personality and attitude spot on, voices the many characters Susie meets on her 500-mile solo walk with great skill and humour, and was such a delight to work with. One of the best moments of all came right at the end when Anne sent Susie her collapsing-into-laughter outtakes. She has given us permission to  broadcast this 2 minute track: proof that Susie Kelly truly is one of the funniest authors writing today: LAUGHTER OUT-TAKES AUDIO.
And here is Susie's blog Infectious Laughter IS The Best Medicine. 
Best Foot Forward - A 500-Mile Walk Through Hidden France by Susie Kelly and Anne Day-Jones is now out on Audible, Amazon and iTunes worldwide. 
Amazon USA (FREE with 30-day free trial)
Amazon UK (FREE with 30-day free trial)